Capacity:
80 guests seated. Up to 120 standing room only.
Event & Party Pricing:
Monday - Thursday $69 per hour
Friday - Sunday $99 per hour
Meeting Pricing:
Monday - Thursday $69 per hour
Friday - Sunday $99 per hour
Neyborly @ Old Town features original hard wood floors and antique fixtures with a hint of the adventurous and groovy style the Rose City is known for. Our flagship Pacific Northwest location sits street-side in a beautiful corner spot in the heart of Portland with a view of Big Pink. Founders Ben and Andy Seidl hail from Portland and are so excited to finally bring Neyborly home. From Mt. Hood to the gorge, we are excited to bring our old digs into the fold.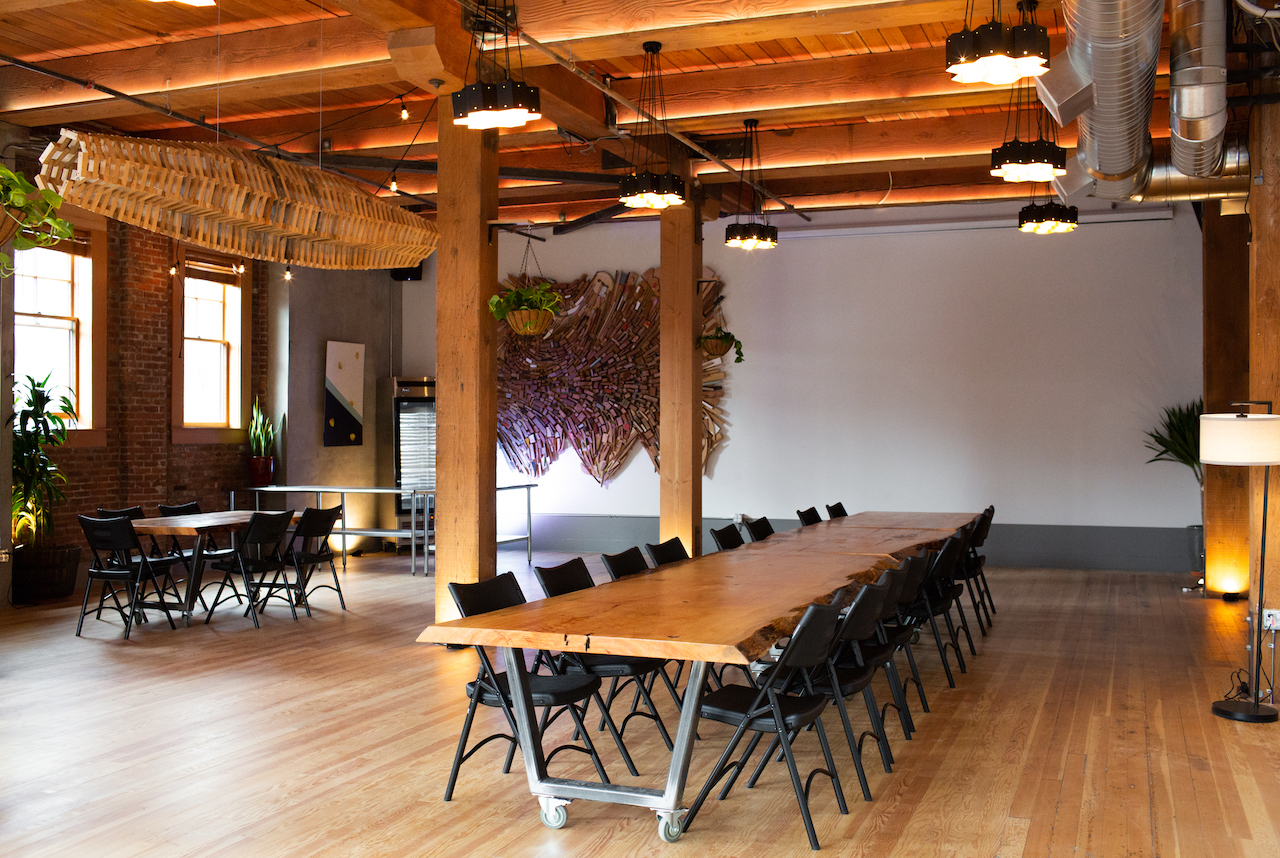 Nearby Transit
MAX Stops - NW 5th & Couch
Car - Paid parking available on street and nearby lots
Highways - 405 Exit NW Everrett Street
Bus - 2, 4, 8, 9, 16, 20, 35, 44, 77
Bike - Secure bike storage on site
Neyborly @ Old Town Included Amenities
Onsite manager Available to help your event run smoothly
Tables 4 handcrafted wooden tables made especially for our space. Outfitted with locking wheels for ease of movement.
Chairs 80 black folding chairs.
Extra furniture Neyborly @ Old Town has additional cocktail tables available.
Kitchenette The venue comes with access to a sink, large fridge, and bar space.
LED Lighting Our venue is outfitted with color customizable LED lights. Turn them on and enjoy!
House iPad Our house iPad is set up with Spotify, Pandora, lighting controls, and more.
Professional Audio System Plug and play with your phone, computer, or our iPad!
A/V An audio/visual solution is available at this venue.
High Speed Internet Password protected internet.
Wheelchair Accessible Ramp leading to venue from sidewalk.
Restrooms Two single-use restrooms, refreshed by our staff.
Start Booking Neyborly @ Old Town